The Taz Story Primer is an episode of Taz-Mania directed by Douglas McCarthy. It first aired 20 Feb 1995.
Plot
The network doesn't have a story for today's show so they ask Molly to write one. She makes a sketch of Taz eating Wendal T. Wolf, then spinning through various objects, but the network wants a real story. She narrates Taz encountering a series of mishaps, most including boulders falling on him. When she's through, Taz retaliates.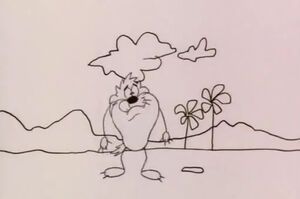 Community content is available under
CC-BY-SA
unless otherwise noted.