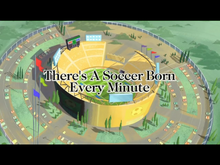 There's a Soccer Born Every Minute is the second segment of the 48th episode of New Looney Tunes. It first aired on January 25th, 2018 in the USA.
Title
The title is a pun on the phrase "there's a sucker born every minute."
Plot
When Bugs Bunny accidentally finds himself in the middle of a soccer game, Bugs joins the blue team and leads them to victory and to show the red team what sportsmanship is all about.
Videos