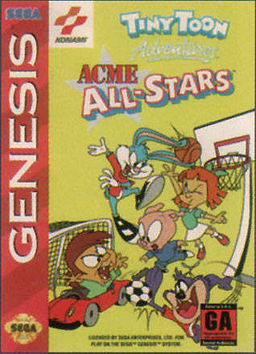 Tiny Toon Adventures: ACME All-Stars is the second Tiny Toon Adventures-based game. It was released in 1994 for the Mega Drive/Genesis, and developed and published by Konami. It is very similar to Tiny Toon Adventures: Wacky Sports Challenge and Tiny Toon Adventures: Wacky Sports, released on the Super Nintendo Entertainment System and the Game Boy respectively.
Plot
ACME All-Stars is a sports title that allows the player to make a team out of several iconic characters from the show.
Gameplay
Characters include Buster Bunny, Babs Bunny, Plucky Duck, Hamton J. Pig, Montana Max, Elmyra Duff, Shirley the Loon, Fifi La Fume, Calamity Coyote, Little Beeper, Furrball, and Dizzy Devil. Players can choose between basketball or soccer, and can even choose the setting. There are other events players can participate in including obstacle race, bowling, and Monty bashing, which was essentially a version of Whack-A-Mole. This is the game where most of the characters are playable.
Video
External Links