Wikis I have powers on
Me elsewhere
The Internet Animation Database - PopKorn Kat
Discord: ask (I need to know you for a while, I love talking to new people but won't give it to just anyone)
Steam: popkornkat (I don't accept strangers)
Favorite cartoons
Way too many to list.
Editing history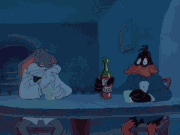 I started editing under IP addresses in May 2010, but I didn't create an account until June of that year. After August, I became dissatisfied with Wikia and stopped using the site. That is, until I returned here in April 2016. I continued to edit whenever I felt like it, adding many images and pages. In May 2017, I applied to become an Acme Head--and did I get the position!
The first edit I ever made on this wiki was to the First appearance page.
My edits on Wikia (and this wiki) mainly fall into the following categories:
Grammar, spelling, punctuation, and capitalization corrections. It's rather instinctual for me to correct poor writing whenever I encounter it. If you see me appear on your wiki's recent changes and disappear into the horizon afterward, this is most likely the reason.
Adding information to articles. This can include writing synopses and adding images.
Cleaning up articles. On this wiki, this includes adding infoboxes to articles which lack them.
I generally hang out on cartoon-related wikis, mainly those related to classic and 90s cartoons.
| | |
| --- | --- |
| | This user thuffers from thuccotash >> Sylvester. |
| | |
| --- | --- |
| | This user is annoyed by bad ol' putty tats >> Tweety Bird. |
I have:
If you need information or screenshots from a cartoon that's on one of these sets and you don't have it, don't be afraid to ask. However, please note that I will not provide rips or video files from any of them, for legal and technical reasons.
These are projects that I will be working on. However, they are not mine exclusively. I would like everybody who's bored and reading this page to do their part.
A lot of episode articles need to be created.
Episode articles need to be created
More images need to be uploaded
Add infoboxes to every episode article
Articles are very incomplete. They need plots, credits, infoboxes, screenshots.
Pages need to be created for each game, mainly the Game Boy Color ones
Gameplay videos for each game need to be uploaded
A ton of information needs to be added