Arcane: League of Legends - The Loop
Play Sound
Warner Bros.-Seven Arts was formed in 1967 and became defunct in 1970, when Seven Arts Productions acquired Jack Warner's controlling interest in Warner Bros. for $32 million[1] and merged with it. The deal also included Warner Bros. Records, Reprise Records and the B&W Looney Tunes library, plus the first Merrie Melodie, "Lady, Play Your Mandolin!" Later that same year, Warner Bros.-Seven Arts purchased Atlantic Records. Head of production was Kenneth Hyman, son of Seven Arts co-founder Eliot Hyman.
History
Warner Bros.-Seven Arts was acquired in 1969 by Kinney National Company, which had also acquired National Periodical Publications, later known as DC Comics, who proceeded to delete "Seven Arts" from the company name in 1970, reestablishing it as Warner Bros. Due to a financial scandal over its parking operations, Kinney National spun off its non-entertainment assets in 1972 as National Kinney Corporation and changed its name to Warner Communications Inc., which merged with Time, Inc. to form Time Warner in 1990. Since its acquisition by AT&T in June 2018, it is now known as WarnerMedia.
Logo
When the merger happened, a new corporate logo was unveiled with a stylized combination of the letter "W" and the number "7", usually in a stylized shield outline. Starting with "Cool Cat", this new logo design was incorporated into a revised version of the "Abstract WB" logo sequences originally designed for "Now Hear This" and in regular use by this time. This version of the logo sequence is often referred to by Looney Tunes fans as the "Abstract W7" sequence. The first three cartoons using this new logo sequence used the same color scheme as the prior logo sequence, with a black background and purple "W7" shield, but with shorts beginning in 1968, the background was changed to blue, and anything purple (including the "W7" shield) was changed to yellow.
William Lava also revised his atonal arrangement of "The Merry-Go-Round Broke Down" to go with the "Abstract W7" opening sequence, sounding more low-budget than the previous version, and once in a while experimenting with alternate arrangements. The closing theme music remained the same as the DePatie-Freleng Enterprises shorts from 1963-1967.
Sound Effects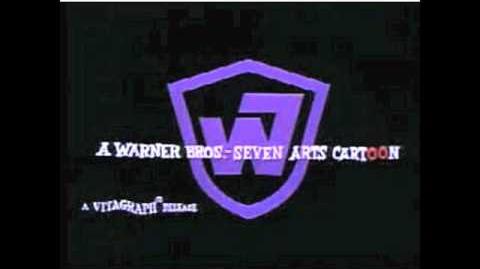 The sound effects used in the W7 cartoons were very unusual, typically using the same small amount of Hanna-Barbera and WB/Looney Tunes sound effects (the latter being largely sounds rarely used in the Golden era) for some reasons, possibly due to the limitations and budget at that time. The film editors were both Hal Geer and Donald A. Douglas (who was also a film editor at Hanna-Barbera Productions).
Most of the cartoons except "Norman Normal" (1968) used the sound effects. "The Great Carrot-Train Robbery" (1969) was very limited in its main sound effects.
Filmography
Theatrical Shorts
Trivia
There were plans to make a cartoon series for Rapid Rabbit from "Rabbit Stew and Rabbits Too!" and Norman from "Norman Normal" as well as a cartoon series adaption of Mack Sennent's "Keystone Cops" and "Puff the Magic Dragon" (which would've presumably been another collaboration with Peter, Paul and Mary as "Norman Normal" was), but due to the closure of the WB cartoon studio in 1969, these were all scrapped and never came to fruition.[2]

There were also plans for newer characters for the cartoons prior to the studio's closure, such as detective Super Snooper, a Yosemite Sam-resemblant pirate named Jolly Roger, and a parody of Butch Cassidy named Butch Catsidy, who would likely replace Daffy Duck as Speedy Gonzales's rival.
Road Runner and Wile E. Coyote were also planned to appear in an animated/live-action half-hour special with a bird watcher examining the behaviors of the two.
A prime-time TV series based on Al Capp's "L'il Abner" was also planned for the 1969-70 television season, but the closure of the studio prevented this from happening.

Cool Cat, Colonel Rimfire, and Spooky appear in further Looney Tunes productions, appearing in 1995's The Sylvester & Tweety Mysteries, 2000's Tweety's High-Flying Adventure, and 2020's Looney Tunes Cartoons.
Some copies of the 1935-1943 redrawn-colorized Looney Tunes cartoons from the Sunset Productions package have the Warner Bros. Seven Arts opening titles plastering over the altered Sunset Productions opening titles which in return are plastering over their original WB opening logos.
As of currently, all of the shorts produced in this era have been restored, except "Hocus Pocus Powwow", "Flying Circus", and "Injun Trouble".
Gallery
References