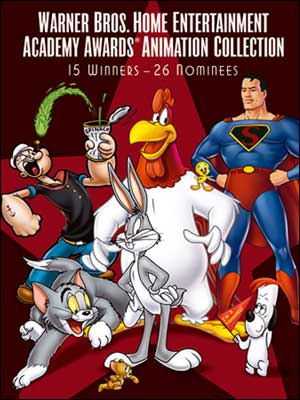 Warner Bros. Home Entertainment Academy Awards Animation Collection is a collection of animated shorts from Warner Bros., MGM, and Paramount Pictures that have won or have been nominated for an Oscar. The DVD was released on February 12, 2008.
The DVD contained three discs, one dedicated for the Oscar winners, while the other two dedicated to the Oscar nominees. Aside from the 3-disc DVD set aimed at collectors, separately-released individual single-disc versions of this DVD set are also available.
All the cartoons released on this set, except the "What's Cookin' Doc?" bonus, are restored from their original negatives or in the case of the pre-1951 MGM cartoons, their backup negatives.
Looney Cartoons
This list does not include the Metro-Goldwyn-Mayer or Paramount cartoons. To see the MGM cartoons included on this set, see here.
Disc 1
Disc 2
Disc 3
Bonus
(**): In the public domain in the United States
Omitted Nominees
Although all the five Oscar-winning Looney Tunes/Merrie Melodies shorts and most of the Oscar-nominated Looney Tunes/Merrie Melodies shorts are included in this DVD set, there are a few Oscar-nominated Looney Tunes/Merrie Melodies shorts which were not included. An asterisk symbol (*) indicates that the omitted Oscar nominee has not yet been remastered and restored for DVD/Blu-Ray.
Community content is available under
CC-BY-SA
unless otherwise noted.