GTA: The Criminal Enterprises - The Loop
Play Sound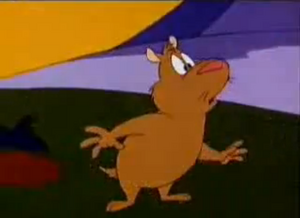 Willie Wombat is a character on Taz-Mania. He is inspired to become a famous cartoon character.
Description
Willie mostly resembles a wombat save for the fact that he is brown instead of gray and can stand on two legs (as most animated cartoon characters do).
Personality
Willie Wombat is a generally cheerful fellow, until he encounters Taz (often not ending on such a positive note). He is also a wannabe actor.
Originally, he was more antagonistic to Taz, but later episodes show that he greatly admires Taz, and what he does. This is shown in one episode where he literally asks Taz and his family to help him change his ways. Despite this all, his anger often sets him at odds with Taz during most of the episodes in which he appears. He also commonly breaks the fourth wall, complaining to the audience that he didn't want to do old Bugs Bunny cartoons claiming that it was often a cheap parody. Instead he wanted to star in cartoons that fit his more cheerful behavior. If pushed too far he can have outbursts of anger.
Relationship with Taz
In most of his appearances Willie is not scared of Taz and therefore does not run whenever he sees him. Generally the relationship between the two is mixed, with Willie rotating as a rival/friend of Taz, sometimes out of jealousy that the marsupial is getting more attention than he is.
Appearances
In "Willie Wombat's Deja Boo-Boo" he is able to recognize Taz because he had seen him in some Bugs Bunny cartoons. He then proceeds to tell him that he doesn't want to star in another Bugs Bunny cartoon. This backfires when he is given the role of Wile E. Coyote and Taz is the Road Runner. This ended with him wanting to do another role, which switched in the role of Sylvester and then as George P. Dog. By the end of the cartoon he and Taz have reached an agreement but the cartoon is already ending, so it's too late.