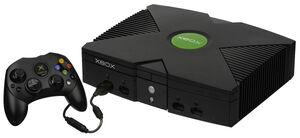 Xbox is a video game console developed by Microsoft. It was released on November 15, 2001, in North America, followed by Australia and Europe in 2002. It was Microsoft's first foray into the gaming console market. As a sixth-generation console, it competed with Sony's PlayStation 2, Sega's Dreamcast, and the Nintendo GameCube.
It featured Xbox Live, a fee-based online gaming service that enabled subscribers to download new content and connect with other players through a broadband connection. Unlike other online services from Sega and Sony, Xbox Live had support in the original console design through an integrated Ethernet port. Xbox's successor, the Xbox 360, was launched in November 2005.
Looney Games
Community content is available under
CC-BY-SA
unless otherwise noted.