Yankee Dood It is a 1956 Looney Tunes short directed by Friz Freleng.
Title
The title is a pun on "Yankee Doodle" and Red Skelton's famous "I Dood It" line from the Mean Widdle Kid routine.
Plot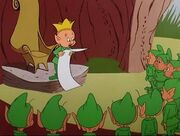 Elmer Fudd is the progressive King of industrial Elves. He visits an outmoded shoemaker's shop to extol the virtues of mass production capitalism to the shoemaker, whose pet cat, Sylvester, uses the magic word, "Jehosophat" to turn Fudd's elf helper into a mouse and chases him around the shoemaker's shop. Saying "Rumpelstiltskin" changes him back to an elf.
Availability
Notes
This short is based on the fairy tale "The Elves and the Shoemaker", but set 150 years after that story took place (in the mid-19th century).
Unlike most cartoons reissued at the time, the original end title is kept.
This was the last of three cartoons to be underwritten by the Alfred P. Sloan Foundation, which also underwrote "By Word of Mouse" and "Heir-Conditioned". They are all available on Looney Tunes Golden Collection: Volume 6, Disc 2.
This cartoon is also one of the rare cartoons where Sylvester has no speaking lines (except for "Ah-ha!" and "Sufferin' Succotash"), and thus there is no voice actor credit. Daws Butler voiced the shoemaker, and Arthur Q. Bryan voiced Elmer Fudd.
External Links
Community content is available under
CC-BY-SA
unless otherwise noted.